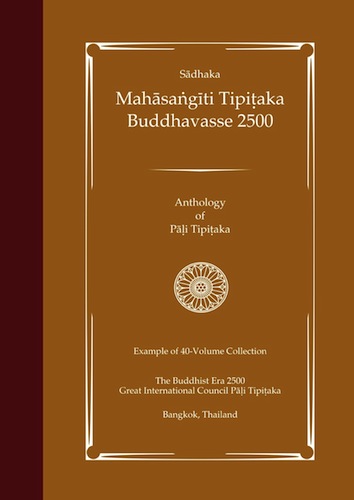 P?r?jikap??i 1V1..P??i Tipi?aka
The 40-volume World Tipitaka Edition in Roman Script 2010

Examples of the latest edition of the World Tipitaka Edition in Roman proof-read and published by Dhamma Society between 1999-2009.

The 2010 edition presents the new division of the Tipitaka into 86 Pali Books according to the B.E. 2500 (1957) Great International Pali Tipitaka Council. Each Pali Book is numbered from No.1-86 for easy search in the etipitaka quotation. And for the first time, a newly proof-read of all the variant readings of Pali worlds as well as selected indexes are included in the endnote of the book. For the full search see electronic Pali Corpus at www.studies.worldtipit....

These examples also show the Quick Guide and the the newly proposed system of International Phonetic Alphabet for Pali or IPA Pali by Emeritus Prof. Vichin Phanupong.

The World Tipitaka WebService at www.studies.worldtipit... is also available for quick search and scholarly reference. A more friendly electronic version will be available at the end of 2010.
P?r?jikap??i 1V1..P??i Tipi?aka
คลิ๊กที่นี่เพื่ออ่านข้อแนะนำวิธีการอ่านหนังสือ online ค่ะ
คลิ๊กที่ Fullscreen สีฟ้าด้านซ้ายบนกรอบหนังสือ เพื่ออ่านแบบเต็มหน้าจอคอมฯ จะทำให้อักษรใหญ่ขึ้น
DOWNLOAD คลิ๊กที่นี่ เพืี่อบันทึกไฟล์ PDF ไว้ในเครื่องของท่านค่ะ